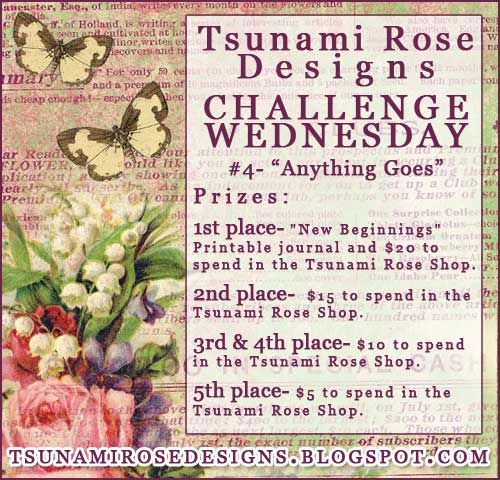 Tsunami Rose Links
Once again, I have used the WONDERFUL papers from Tsunami Rose, to create a card as inspiration for this weeks challenge, "Anything Goes".
So, here it is....
This week I have chosen to not have a sentiment in Swedish on my card, I think the text/sentiment that is included in the New Beginnings-set deserved to shine by itself.
Materials used on this card:
* White Bazzill cardstock
* White, BIG mullberry rose with golden details
* White, mediun sized mullberry roses
*
pink/white mullberry roses
* Mullberry rosebuds in white/purple
* A blue flower, not sure what kind it is (If you know, leave a comment)
Well, that's it for me for now...
I really hope that you join our challenge. :)
You can get there by clicking the picture at the beginning of my blog-post.
So, SOME ON....you got nothing to loose, and chance to win great prizes. :)
Take care, and hugs from Linda